Walk News and Updates
We have created this Customized Guide to Walk Day to help children and adults living with autism prepare for their walk day experience. Please use this guide and share with others that will be joining us for the Autism Speaks Walk.
View Guide to Walk Day | Check out our SPONSOR Village! | #ShoutOut to our Top Teams Village!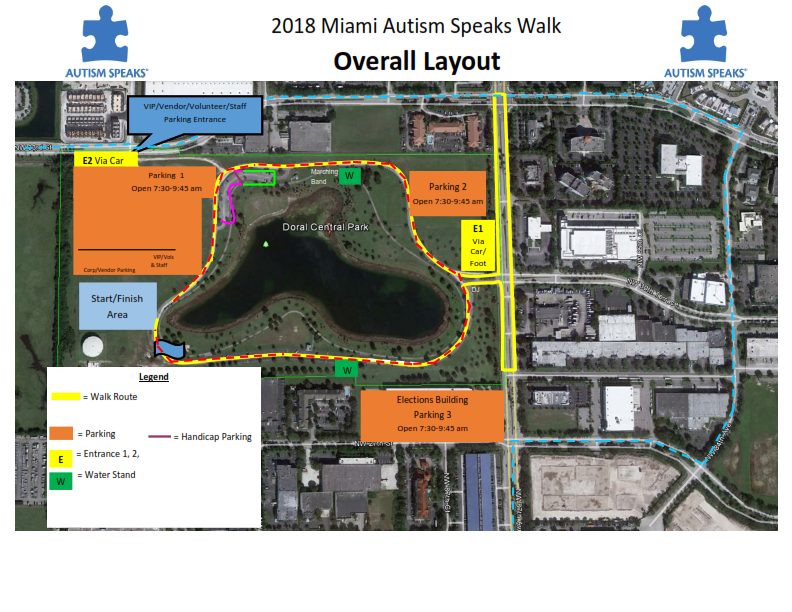 What can you expect on Walk day? The most sensory-friendly event ever, all done with you in mind!
On arrival there will be calming instrumental music playing thru to the Opening Ceremonies
The event area will be enclosed with fencing for everyone's safety
All donations will be collected at the central Registration Tent.
Everyone registering or checking in will receive a Pom-Pom to shake instead of clapping
Showcase of Autism Speaks Resources and meet our own Autism Response team member, Joan de la Paz
Sensory activities and a Quiet Tent will be available
A Mission Moment using your Pom-Pom before a quiet countdown to start the Walk
Complimentary snacks will be available as well as food for purchase from food trucks
Individuals who raise $1,000+ by Walk day will receive VIP Parking passes and invitation to the VIP Grand Club Tent with light catered breakfast and coffee.
What else is important for you and your teammates to know?
Make sure ALL your teammates are registered online! Send them the link to join your team!
No need to register kids under the age of 16 (unless they're fundraising!). There will be a Kids' Card for the parents to sign at Check In.
Donations: you can drop off donations at the check-in tent on walk day!
Tents from home cannot be set up or brought into event for safety and permitting reasons
Volunteers: We are FULL! While we cannot accept any more volunteers the morning of the Walk, all attendees are asked to register and fundraise to participate in the event.
Only service pets are allowed in park for safety of our participants
Parking: Early birds can park at Doral Central Park, entrance on 87th Avenue. Park entrance will close at 9:30am and 87th Avenue will be shut down for the Walk route till 11:30am.

If you expect to leave the event earlier than 11:30am, consider parking outside the park at the Elections Building south of the park.

Walk Distance: The walk is 1.7 miles long. Shorter route is available.
Have you seen our new 2018 commemorative Walk Shirts?

any registered walker that raises $150 or more will receive a commemorative walk day tshirt! This year's shirt is designed with love by Tommy Hilfiger.

Check out the other individual fundraising incentives!
SCHEDULE:

7:00am park gates open
7:30am Registration/Check In opens
9:15am Announcements to start
9:20 am Opening Ceremonies
9:55 am Mission Moment
10:00 am Walk Starts!
Finish line celebration featuring: music, performers; moon bounces; plenty of water and snacks for everyone. Ends at 12:30 pm.