Why I Walk for Autism Speaks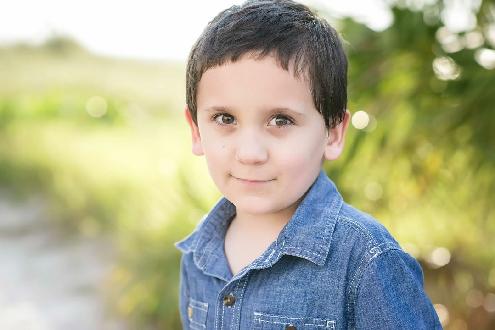 I'm walking for a few reasons. First reason is to raise funds for the mission of Autism Speaks – to fuel innovative research and make connections to critical lifelong supports and services for the autism community.
The most important reason I walk for Autism Speaks is because of my son. Jake is 6 years old and is one of the brightest lights in my life. His smile, his laugh, his incredible sense of humor is contagious. He lights up a room just by entering it. He says so much with his eyes and that smirk. Over this last year, he is finally saying more with his words too! Jake was non-verbal up until he was almost 3 years old. He has been in Speech and Occupational Therapy since he was 20 months old and has made worlds and worlds of progress in these almost 5 years of therapy. Jake will turn 7 just one week before the walk, and in these 7 years of life, Jake has taught me more about love, determination, and perserverance.
Autism Speaks has provided me a forum to share not only my voice, but my son's voice. Jake has made the strides he has made because of the faith and determination his family and support system of therapists have demonstrated in his life.
Please support me by donating and help me meet my fundraising goal - and you, too, can join the team and make an impact for people living with autism!
View More
Download Offline Donation Form
Achievements

$1,000 Grand Club Member
Raised the amount of money defined for this milestone

Personal Donation
Personal Donation
Fundraising Honor Roll
Suncoast Beef's, Inc.
$129
Fusion Marketing Group
$50
My Achievements
I earned my Walk Tee Shirt!

Striving to become Grand Club member

I raised $1,000 and became a Grand Club Member!
Share Your Encouragement
date
Location
schedule
contact
4/22/2017
Raymond James Stadium~4201 N Dale Mabry Hwy~Tampa, FL 33607
9 AM Registration~10:00 AM Opening Ceremonies~10:30 AM Walk Start

Katy Formella

407-478-6330

katy.formella@autismspeaks.org
If you think this page contains objectionable content, please inform the system administrator.