Help me raise money for Autism education and research with donation tripling!!!!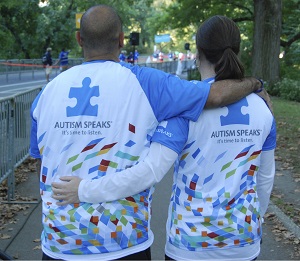 Dear friends and family,
I am very excited to run the New York Marathon and support Autism Speaks. My endorsement will help raise money in educating children with autism and help finance research into the environmental, genetic, and other related factors that are associated with autism and its increasing rate of incidence in the U.S.
My employer (ORIX USA) has a generous donation matching program, and my wife has promised that LoveBug Probiotics (our start-up) will also make a matching donation - so every donation you make will be tripled!!!!
Here are some important key facts about Autism and why I have chosen to support it:
• In 2016, the Centers for Disease Control and Prevention issued their ADDM autism prevalence report. The report concluded that the prevalence of autism has risen to 1 in every 68 births in the United States – nearly twice as great as the 2004 rate of 1 in 125 – and almost 1 in 54 boys.
• More than 3.5 million Americans live with an autism spectrum disorder. What's really concerning is that the prevalence of autism in U.S. children increased by 119.4 percent from 2000 (1 in 150) to 2010 (1 in 68) (CDC, 2014).
• Autism is the fastest-growing developmental disability (CDC, 2008). Prevalence has increased by 6-15 percent each year from 2002 to 2010. (Based on biennial numbers from the CDC).
• The U.S. cost of autism over the lifespan is about $2.4 million for a person with an intellectual disability, or $1.4 million for a person without intellectual disability. (Buescher et al., 2014).
• 35 percent of young adults (ages 19-23) with autism have not had a job or received postgraduate education after leaving high school. (Shattuck et al., 2012).
• It costs more than $8,600 extra per year to educate a student with autism. (Lavelle et al., 2014) (The average cost of educating a student is about $12,000 – NCES, 2014).
Any donation you can give will be greatly appreciated. Thank you very much for your support.
Ben
Source documents:
http://www.autism-society.org/what-is/facts-and-statistics/
https://www.autismspeaks.org/what-autism/
View More
Achievements

Personal Gift
Has made a donation to this event