Brandon Rust's Fundraiser for Autism Speaks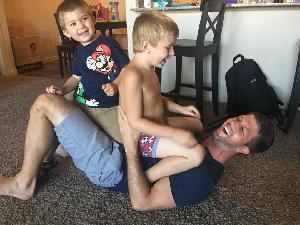 Join me in my efforts to support Autism Speaks!
This year will be my 8th year running the NYC marathon, and I am raising funds to support a cause that is incredibly important to me, with Autism Speaks. As some of you know, both of my nephews, Dexter and Max, fall on the spectrum. While each day offers its only set of challenges for both Dexter and Max, I can confidently say that I have learned more from them than anyone else in my life.
Autism, or autism spectrum disorder, refers to a range of conditions characterized by challenges with social skills, repetitive behaviors, speech and nonverbal communication. The U.S. Centers for Disease Control and Prevention (CDC) estimates 1 in 59 children is on the autism spectrum.
Autism Speaks is dedicated to promoting solutions, across the spectrum and throughout the lifespan, for the needs of individuals with autism and their families through advocacy and support; increasing understanding and acceptance of autism spectrum disorder; and advancing research into causes and better interventions for autism spectrum disorder and related conditions. They empower people with autism and their families with resources, online tools and information covering the life span.
Autism Speaks enhances lives today and is accelerating a spectrum of solutions for the future.
Thank you for helping me reach my goal. Your support is greatly appreciated!
View More
Achievements

Personal Gift
Has made a donation to this event
Fundraising Honor Roll
Donnie, Christie, and Louis
$200
William and Marie Porter
$100
Chad & Gabrielle Chambers