Take a Kindness Break and spark conversation, connection and community.
Want more kindness in the world? Us, too.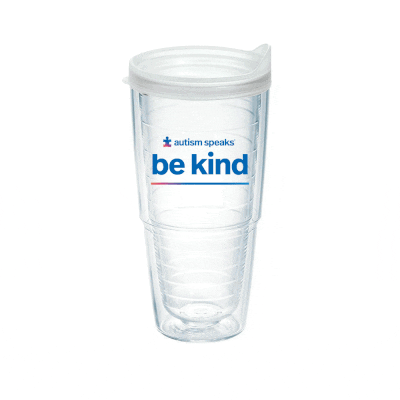 What better way to create connection and conversation than by sharing a virtual cup of kindness with your community? When you take a Kindness Break with Autism Speaks, you decide what goes in the cup and the format of your break and we all gain a world with more acceptance and understanding.
If you choose to host a virtual Kindness Break, as soon as $25 is donated to your participant center, we will send a Kindness Kit filled with decorations, napkins, stickers and more!*
Once you raise $100, we will send your very own Kindness Cup* — a 24oz Tervis tumbler with a simple message: Be Kind.
It's more important than ever to connect through kindness.
In February 2020, we launched Kindness Breaks as part of our campaign to create a kinder world, not knowing what challenges were ahead of us. As we work through this moment together, this message feels as relevant as ever. Amidst the stress and uncertainty of these times, we can all find ways to show kindness and compassion to one another – within the autism community and beyond.
That's why we're encouraging everyone to take their Kindness Break virtual. Take a solo Kindness Break and set aside an hour to practice kindness. Or host a Kindness Break and gather virtually for a coffee break, afternoon tea or happy hour via video conference. Kindness doesn't require closeness and community spirit can be built in so many ways.
*Due to COVID-19, shipments of the Kindness Kit and Tervis tumbler may be delayed.
Donate:
Find a Participant or Team:
Participate:
Top Donors
Angela Geiger
Eden Carr
Facebook Fundraiser
Debra & John Santoro
John Giusti