Walk News and Updates
Are you ready to walk with us at the 2021 Autism Speaks Boston Walk?!
Outlined below are some helpful tips to assist you with your walk preparation.
All attendees with donations or those who would like to make donations are encouraged to go to the registration tent and register for the walk. If you raised $150 or more you must go to the registration tent to receive your T-Shirt ticket to redeem for your T-shirt
Please bring your Participant/Supporter ID # information to the Walk, as it helps us accurately process and allocate all the donations you raised for you and your team! Your Participant/Supporter ID # is located on your walk website HQ
Walk Details

Boston Common
Sunday, October 17th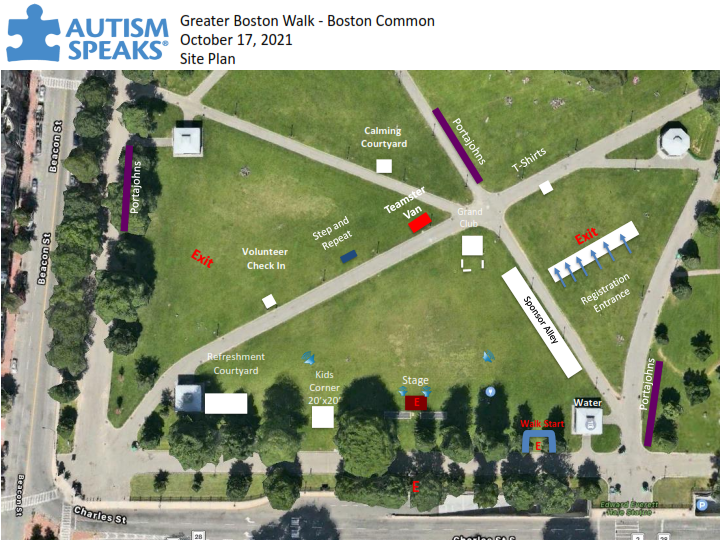 Boston Common - 0 Charles St. Boston, MA 02116
This is the address to main parking garage located under Boston Common, there are four entrances out of the parking garage that will put you onto Boston Common.
Schedule
9:00am Registration
10:00am Stage Program
10:15am Walk Begins
11:30pm Event concludes
Parking
Street parking surrounding Boston Common is very limited and we encourage everyone to park in the parking garage located at 0 Charles St., this garage is located directly under Boston Common and there are four entrances that lead up from the garage right to Boston Common itself. For more information on the garage please visit: www.bostoncommongarage.com
Food
We will have free snacks and water for all participants.
Pets
We must ask that you refrain from bringing pets to this event as many of our kids may have difficulty with unfamiliar animals. Again, no pets and NO DOGS allowed at Boston Common during this event. Only exception is certified service dogs.
Turning in Donations on Walk Day
If you have not already sent in your donations, you can turn them in on Walk Day at the registration tent. You will be provided an envelope at the registration tent. Please make sure you fill the envelope out completely to ensure your donation is credited correctly. Donations should appear online approximately 2-4 weeks after Walk Day. You can also scan in checks on the walk app and have them credited to your walk page in live, real time; see below!
Other Important Notes
There will be staff, committee members, volunteers and police officers making sure that everyone who participates in the Walk is safe and secure, but we would also ask each adult to help us ensure the safety of all children and individuals who may need additional supervision. Please do not leave children alone at any of the activities, quiet area or food areas.
Please remember this event takes place RAIN OR SHINE. So if we have rain on Walk day be sure to come prepared – we will be there!
A team photo area will be available on walk day. Please check back to our Facebook page to see photos a couple weeks after the walk! Our New England Chapter Instagram handle is at @autismspeaksnewengland. Please hashtag all photos and posts on ANY social media outlets – we will be tacking all hashtags, number of impressions and grabbing photos from there too! And remember, always use #AutismSpeaks on all photos and posts!
The Autism Speaks New England team is thrilled to announce this year's post-Walk entertainment and our National Anthem singer for the 2021 Boston Walk. Make sure you arrive on time so you don't miss a beat with Caleb Cascio.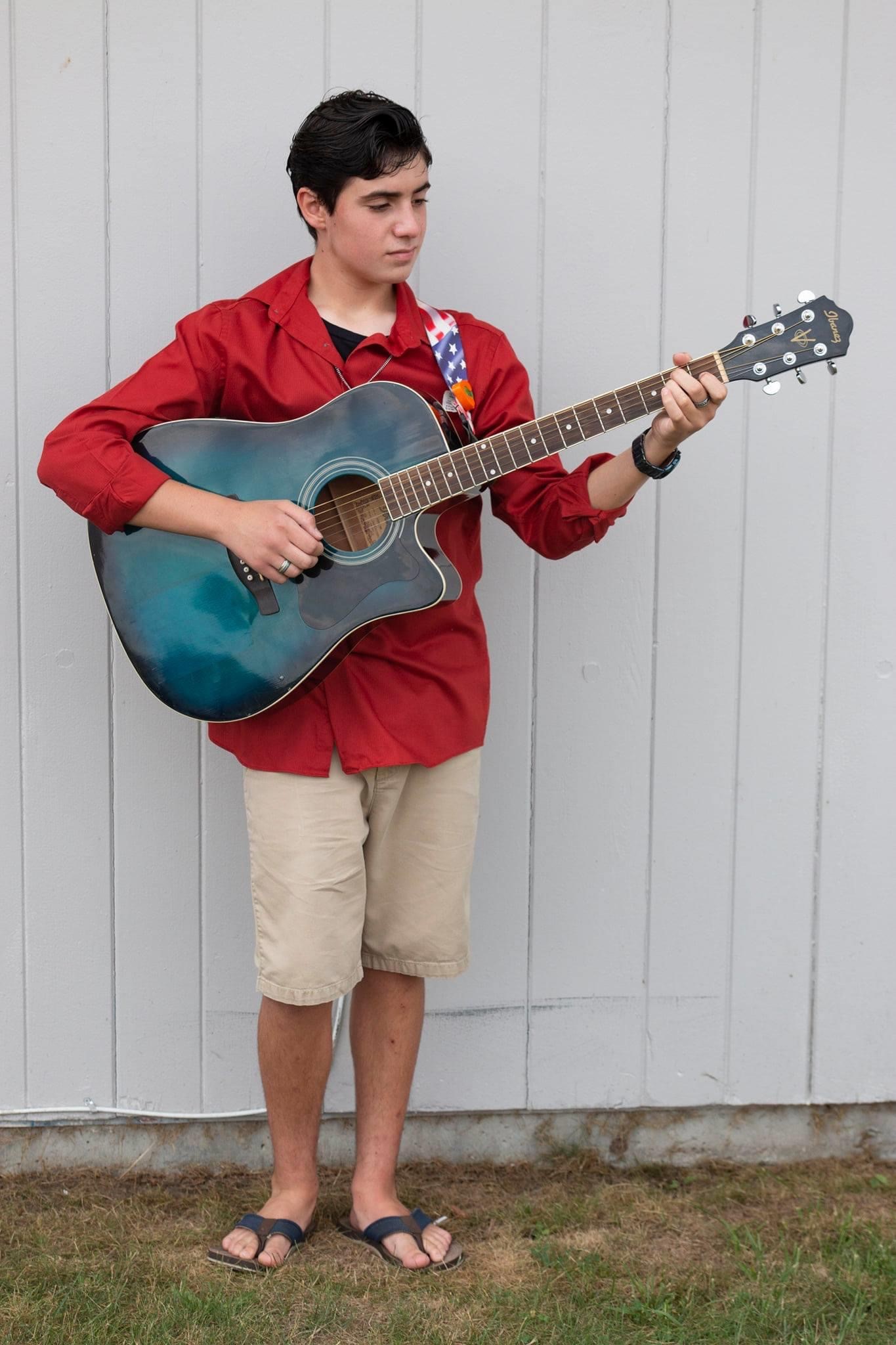 Boston-based singer-songwriter, Caleb Cascio, is always ready to perform. His baritone vocals, with surprise falsetto flair, compliments his passionate ballads and pop-infested sets. He performs all over New England at top stages, festivals, and sporting events. Caleb has participated in several National Anthem performances for the Boston Red Sox, and many Boston colleges and universities.
He is heavily influenced by Lewis Capaldi, Taylor Swift, Shawn Mendes, Ed Sheeran, Zara Larsson, Bruno Mars, and Dean Lewis. He has been covering Taylor Swift songs since he was 9 years old. Caleb has 2 original songs streaming on all major platforms.
Caleb is an active member in the Autism Speaks community, performing at the Xfinity Center to open up for the Autism Walk, singing at multiple Autism Speaks charity events, and performing our National Anthem at two autism awareness Boston Red Sox games. Caleb, his family, and friends have raised $100,000 in their fundraising efforts for Autism Speaks.
Caleb's academic love is anything about outer space and NASA missions. He is an accomplished Tenpin bowler, qualifying for the US National Championships, and a competitive golfer who aims for birdies and eagles.