About Event
Click on the image below to hear a message from Houston 8K/5K/1K emcee,
Anthony Yanez of Houston's KPRC2
We're so excited for this year's Autism Speaks Houston 8K/5K/1K Run and we can't wait to be with you all on event day. The 2022 race will be at Sugar Land Town Square on Sunday, November 13, 2022, with registration opening at 6 a.m.
Lace up those running shoes for either an 8K/5K/1K to help Autism Speaks create a kinder and more inclusive world. Recruit friends and family for your team and get ready to run for a great cause wherever you can! In your neighborhood, at a park or on a treadmill! Participate however you can practice safe social distancing based on your community's regulations. Anyone and everyone can join, we want people across the country to come together to support people with autism and their families.
Every registered participant will be sent a commemorative event shirt and finisher medal to show off your accomplishment and support for a kinder world.
As an added bonus on race day, all runners who raise $100 or more will receive access to our VIP area. What is the VIP area you may ask? It's a special place on race day for our sponsors and fundraisers to visit and receive VIP treatment. We will have special snacks, craft beer, a LALO Tequila specialty cocktail, a caricature artist and more! You won't want to miss out on this race morning!
In addition to fundraising to support the autism community by furthering the mission of Autism Speaks, you can share your story, and connect with others, Ready to get started? If you haven't already, register today and stay tuned for more information on how we'll come together this month.
In kindness,
Kaitlin Bracken
Area Executive Director
RACE DAY DETAILS:
PARKING MAP
Click on the image below to download or view larger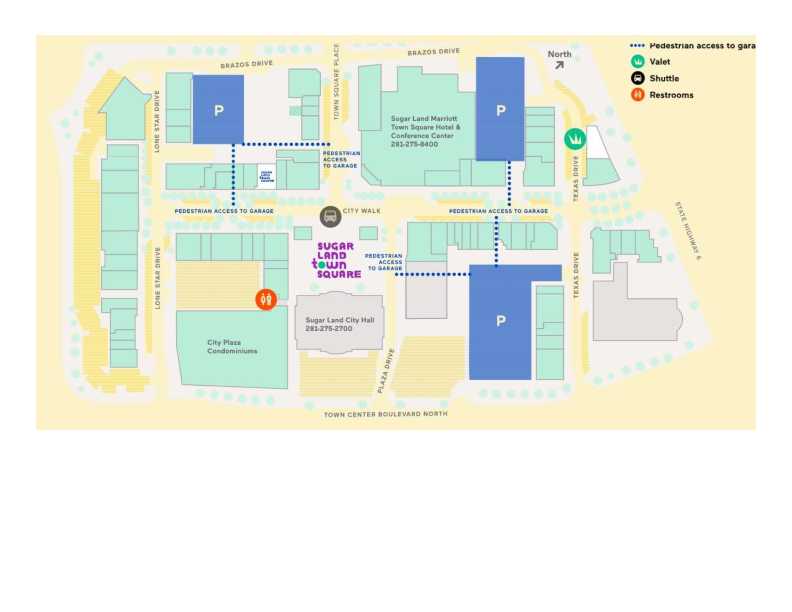 RACE LOCATION
Our event will be set up at Sugar Land Town Square, as shown on both the Parking Map above and the Race Route Map below.

8K ROUTE MAP
Click the image below to download or view the image larger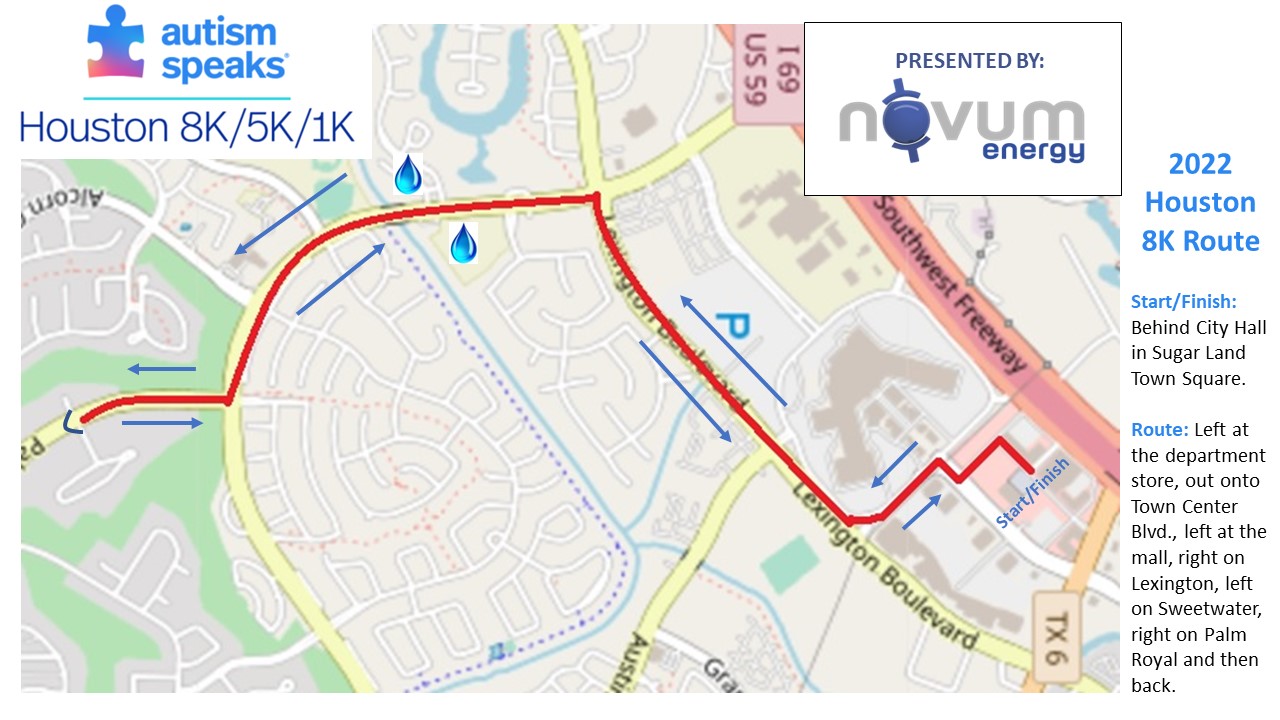 5K ROUTE MAP
Click the image below to download or view the image larger
1K ROUTE MAP
Click the image below to download or view the image larger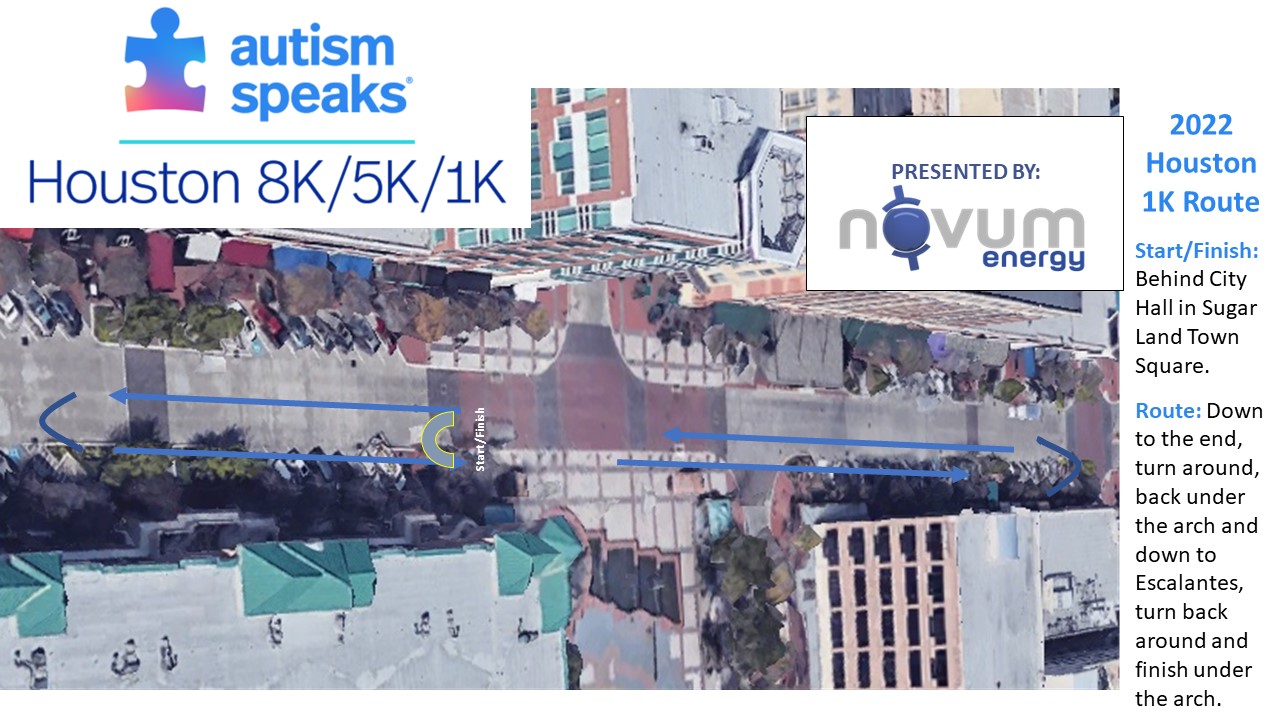 VOLUNTEER: We're always in need of volunteers to help make event day a great success, click here.
DAY OF SCHEDULE:
6:00 a.m. Onsite Registration Opens
7:00 a.m. Opening Ceremonies
7:15 a.m. 1K Kid's Fun Run
7:30 a.m. 8K Start
7:45 a.m. 5K Starts
8:30 a.m. Closing Ceremonies and Awards
ACTIVITIES ON RACE DAY: We have a few fun activities in store for all participants. Enjoy a face painter, balloon artist, yard games, kindness chalk, post your kindness wall, sensory-friendly activities with our sponsors, and more.
TURNING IN DONATIONS:
Cash Donations: convert to a money order or check and follow instructions below.
Check Donations

Deposit using our mobile app and skip the effort of mailing them in! Scan checks directly from your phone and they'll be instantly credited to your fundraising page.
Mail checks to the address below along with a completed contribution tracking form. Mailed donations will be credited to your fundraising page in 2-3 weeks.
Autism Speaks
P.O. Box 199
Rocky Hill, NJ 08553-0199
PHOTOS: Be sure to tag @AutismSpeaks on social media and use #RunningOnKindness when you post your race day photos.
SPONSORSHIP OPPORTUNITIES: Interested in being a sponsor? Contact Kaitlin Bracken at 713.724.5092 or CentralTX@autismspeaks.org.