Walk News and Updates
Soon we will come together as a community to celebrate, connect, and inspire - The Lehigh Valley Autism Speaks Walk is powered by the love of people with autism and the parents, grandparents, siblings, friends, relatives, and providers who support them.

We can't wait to see you at the SteelStacks on Saturday, September 17, 2022 for the Lehigh Valley Walk.
Here are a few things we want you to know: Please share this information with your teammates and supporters.
The Autism Speaks Walk is a FREE event; however, the Walk is our largest fundraising event. We ask participants to fundraise or donate to help fuel our mission and achieve our goal.
Site Layout and Walk Route Map: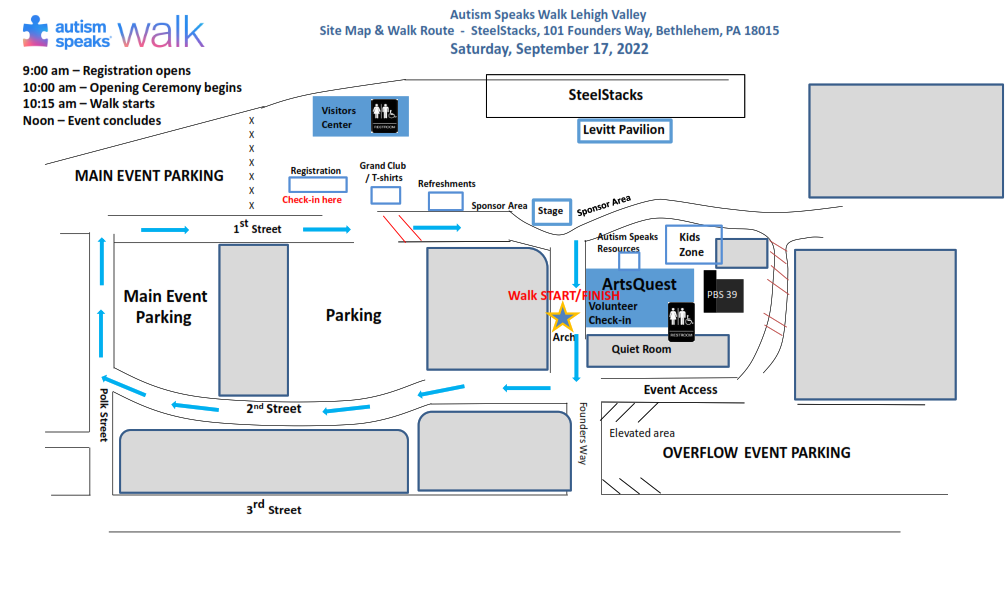 ---
• Venue:
SteelStacks
101 Founders Way
Bethlehem, PA 18015
• Arrive Early!
Registration and our Resource/Sponsor Area open at 9:00 a.m. The Opening Ceremony will begin at 10:00 a.m. with the Walk immediately following. The Walk is about a mile long. Strollers, wheelchairs, and wagons are permitted. We Walk rain or shine!
• Parking:
Parking is free. Participants are encouraged to park in the SteelStacks parking lot. There will be signs posted to direct you to our reserved parking lot.
• Check-In/Registration:
Registration opens at 9:00 a.m. Donations will be collected at registration. All participants need to check-in at Registration.
You can register online up until Walk day. Participants who register the day before the Walk and on Walk day may not show up on the registration reports printed for check-in. If registering the day of Walk, look for the onsite registration area to complete the registration form. Donation forms will be available.
• Donations:
If you have money to turn in on Walk Day, please turn it in at Registration. All cash and check donations collected to date should be turned in at the Walk. The Donation Forms with your supporter ID can also be printed from each pre-registered participant's individual webpage and taken to Registration. Please mail all donations to:

Autism Speaks – Lehigh Valley
1060 State Road, 2nd floor
Princeton, NJ 08540
• T-Shirts:
All walkers who INDIVIDUALLY COLLECT $150 or more receive an official 2022 Lehigh Valley Autism Speaks Walk t-shirt. All participants who raise $150 or more can pick up their t-shirt at the registration tent.
• Grand Club:
All walkers who INDIVIDUALLY RAISE $1,000 or more receive our grand club pin, medallion, and goodie bag. All participants who raise $1,000 or more can pick up their goodie bags at the registration tent.
• Snacks and Refreshments:
Visit the food tent for package snacks, water, and juice (while supplies last). You can also purchase breakfast sandwiches and coffee inside the ArtsQuest building.
• Sponsor Area:
We have local service providers, members of the local autism community, and corporate companies registered to participate in our Sponsor Area, sharing information about their services and programs, and providing fun activities for children of all ages. The Sponsor Area will open at 9:00 a.m. and is located near registration.
• Safety:
There will be volunteers and police making sure everyone who participates in the Walk is safe and secure, but we also ask each adult to help us ensure the safety of all children and individuals who may need additional supervision. Please do not leave children alone at any of the activities, food areas, playgrounds or in the park.
• Lost Child:
In the event you find a lost child or a parent looking for a child, stay with that parent or child, and take him/her to the Registration table. Autism Speaks staff and onsite security will be notified from there.
• Inclement Weather:
We walk RAIN or SHINE! Please come prepared for any type of weather – be it rain gear or sunglasses and sunscreen (let's hope for the latter).
We are looking forward to seeing all of you on Saturday, September 17, 2022!
Questions? Please contact us at 856-383-0148 or Pennsylvania@AutismSpeaks.org
THANK YOU TO OUR SPONSOR
S