Latest Updates
Welcome to the Autism Speaks Baltimore Walk! Please be sure to visit the registration tent to register and receive your pom-poms. Strollers and wagons are allowed and we will have student athletes there to carry them down the bleachers. Alternatively, once registered, you can walk down with a stroller or wagon to the side entrance onto the field.
Pick up your Walk Passport and make your way to each of our five mission areas for an interactive activity. Turn in your completed passport for a chance to win a gift basket!
Visit the Acceptance and Understanding area and try out the fun photo frames and props – post photos to share your Walk love!
Go to the Research Breakthroughs area to learn about great programs while kids practice their fine-motor skills on the activity boards!
Swing by the Screening and Interventions area to take a deep breath, blow some bubbles and ease your mind.
At the Transition to Adulthood area, kids can race cars on the road to adulthood while adults and caregivers can link up with resources and support.
Wherever you are throughout the lifespan and across the spectrum, get the help you need at our Information and Services area. When you're done, mail a thank you card to someone who helped you fulfill your potential.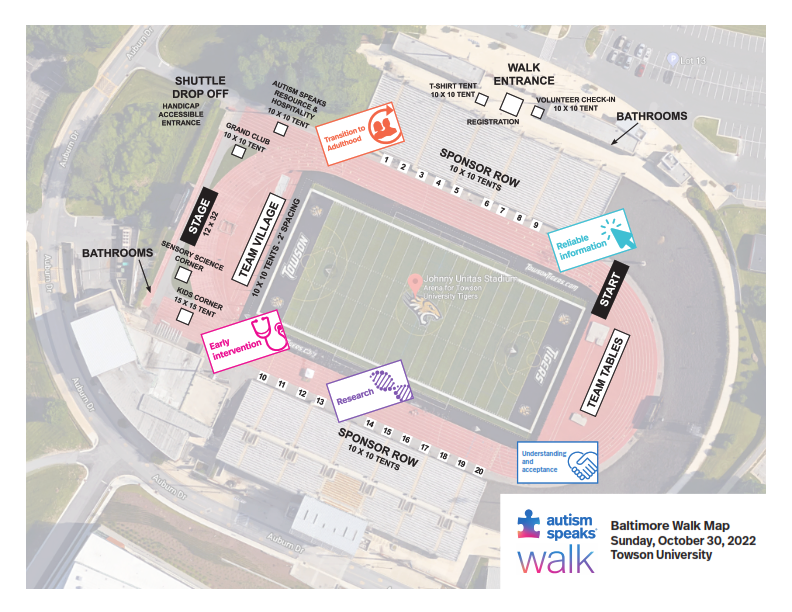 THANK YOU TO OUR SPONSOR
S