After careful consideration, we are moving forward with the Atlanta Walk on Saturday.
We will continue to monitor the forecast and
provide updates
as needed.
Latest Updates: THE WALK IS ON!
After careful consideration, we are moving forward with the Atlanta Walk on Saturday. We will continue to monitor the forecast and provide updates as needed.
The Autism Speaks Walk is FREE, but it is our largest fundraising event to enhance the lives of people with autism today and accelerate a spectrum of solutions for tomorrow. Funds raised help fuel innovative research and make connections to critical lifelong supports and services. Your fundraising efforts empower our work and fuel our continued commitment to an inclusive world where all people with autism, across the spectrum and throughout the lifespan, can reach their full potential.
Address:
The Battery Atlanta
800 Battery Ave. SE
Atlanta, Ga 30339
Schedule of Events:
8:00am - Check-in/Registration Opens
9:00am - Opening Ceremonies Begin
9:15am - Walk Begins
11:00am - Event Concludes

Arrive Early!
Day of registration and our Resource/Sponsor Area will open at 8:00 a.m. The Opening Ceremonies will begin at 9:00 a.m. with the Walk immediately following (about 9:15 a.m.). The Walk is about a mile long. Strollers, wheelchairs, and wagons are permitted. Our event will conclude promptly at 11:00am due to an evening baseball game.

Parking:
Parking is free for the first three hours. Participants are encouraged to park in the Red, Green, Silver, Yellow and Purple Decks.

Venue Layout:
The walk will be just short of a mile walk down Battery Ave alongside the Braves Stadium.
Check-In/Registration/Donations:
Check-In/Registration opens at 8:00 a.m. for anyone needing to register walk day or turn in cash or check donations. Be sure to also download the Autism Speaks Walk app to scan and deposit checks directly.

T-Shirts & Recognition Program:
All walkers who INDIVIDUALLY RAISE $150 or more will receive an official 2022 Atlanta commemorative walk t-shirt.
All walkers who INDIVIDUALLY RAISE $1,000 or more will also receive a grand club pin. These incentives will be available at our T-Shirt tent.
Check out our other fantastic fundraising incentives that you can fundraise for until November 1, 2022. Walkers will receive an email to redeem.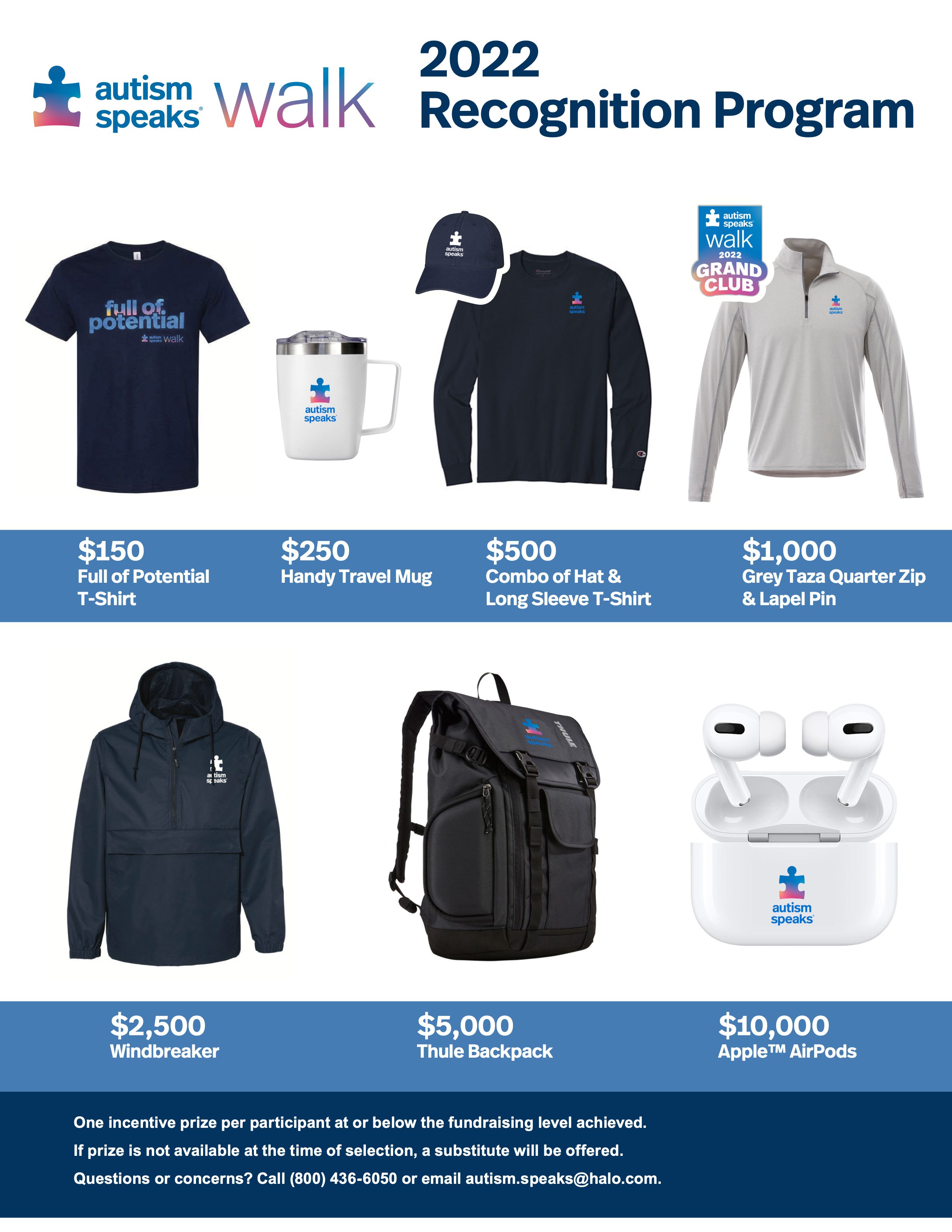 Social Media:
We would love for you to tag us! @AutismspeaksGA #AutismSpeaksWalk

Snacks and Refreshments:
We will have bottled water, packaged snacks, and fresh fruit (while supplies last). There are also restaurants around The Battery.

Lost Child:
There will be volunteers, staff, security, and police making sure everyone who participates in the Walk is safe. In the event you find a lost child or a parent looking for a child, stay with that parent or child, and take him/her to the Check-In/Registration tent. Autism Speaks staff and onsite security will be notified from there.

Quiet Tent:
Sometimes the environment at an Autism Speaks Walk can become overwhelming for people with sensory sensitivities. All of our walks allow access to a quiet space that can be used as a safe outlet if you or your loved one living with autism becomes overwhelmed.

Click on the image below to read our 2022 Guide to Walk Day!
Inclement Weather:
We walk RAIN or SHINE! Please come prepared for any type of weather – be it rain gear or sunglasses and sunscreen (let's hope for the latter).

We are looking forward to seeing you on Saturday, October 1, 2022!
Questions? Please contact Erin Turner, Senior Manager at 470-924-0639 or MidSouth@AutismSpeaks.org
THANK YOU TO OUR SPONSOR
S