Latest Updates
Cick on the image below to hear a message from Houston Walk emcee,
Zach Lashway of Houston's KPRC2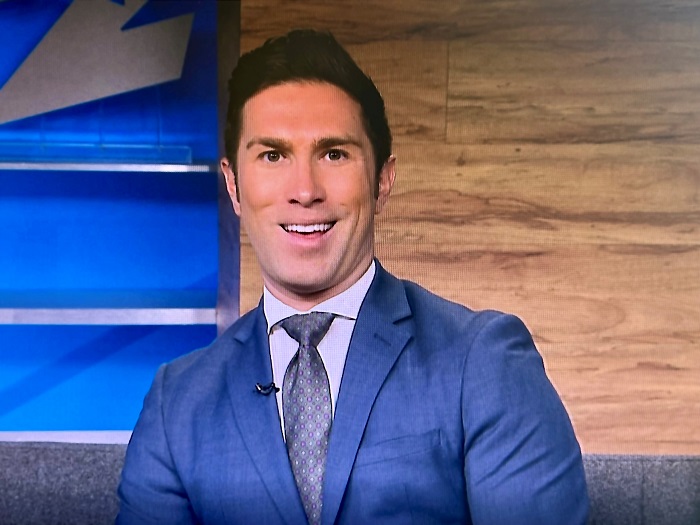 We're so excited for this year's walk and we can't wait to be with you all on event day. The 2022 Houston Walk will be at Lynn Eusan Park at The University of Houston on Saturday, October 22, 2022, with registration opening at 8 a.m.
In addition to fundraising to support the autism community by furthering the mission of Autism Speaks, you can share your story, connect with others, and earn great prizes. Ready to get started? If you haven't already, register today and stay tuned for more information on how we'll come together this month.
The Autism Speaks Walk is FREE, but it is our largest fundraising event to enhance the lives of people with autism today and accelerate a spectrum of solutions for tomorrow. Funds raised help fuel innovative research and make connections to critical lifelong supports and services. Your fundraising efforts empower our work and fuel our continued commitment to an inclusive world where all people with autism, across the spectrum and throughout the lifespan, can reach their full potential.
In kindness,
Kaitlin Bracken
Area Executive Director
We can't wait for you to experience all we have planned this year which includes interactive activities for you to experience our mission in a new way.
You can learn more about the critical work Autism Speaks does by completing our Passport activity which will take you through each area of the Autism Speaks mission – while collecting some giveaways and taking part in engaging experiences.
We recommend arriving 60 minutes prior to the Walk beginning so you can be sure to enjoy all the day has to offer!
WALK DAY DETAILS: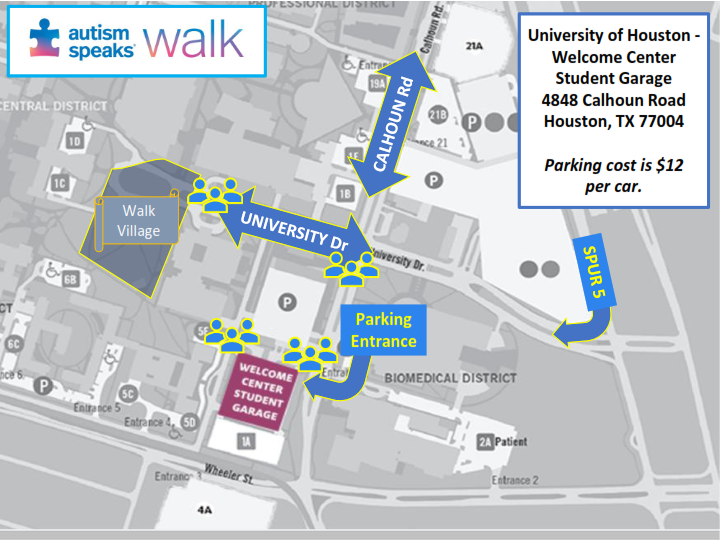 WALK LOCATION
Our event will be set up at Lynn Eusan Park at The University of Houston, as shown on both the Parking Map above and the Walk Route Map below.
CHECK-IN/REGISTRATION/DONATIONS: Check-In/Registration opens at 8:00 a.m. for anyone needing to register Walk day or turn in cash or check donations. Be sure to also download the Autism Speaks Walk app to scan and deposit checks directly.
VOLUNTEER: We're always in need of volunteers to help make event day a great success, click here.
DAY OF SCHEDULE:
Registration opens at 8:00 a.m.
Mission Moment begins at 9:30 a.m.
Walk begins at 9:45 a.m.
Activities open at 10:00 a.m.
Walk ends at 12:00 p.m.
ACTIVITIES ON WALK DAY: We have a few fun activities in store for all participants. Enjoy a face painter, balloon artist, yard games, kindness chalk, post your kindness wall, sensory-friendly activities with our sponsors, and more.
TURNING IN DONATIONS:
Cash Donations:convert to a money order or check and follow instructions below.
Check Donations

Deposit using our mobile app and skip the effort of mailing them in! Scan checks directly from your phone and they'll be instantly credited to your fundraising page.
Mail checks to the address below along with a completed contribution tracking form. Mailed donations will be credited to your fundraising page in 2-3 weeks.
Autism Speaks
P.O. Box 199
Rocky Hill, NJ 08553-0199
SPONSORSHIP OPPORTUNITIES: Interested in being a sponsor? Contact Kaitlin Bracken at 713.724.5092 or CentralTX@autismspeaks.org.
T-SHIRTS & RECOGNITION PROGRAM:
All walkers who INDIVIDUALLY RAISE $150 or more will receive an official 2022 Houston commemorative walk t-shirt.
All walkers who INDIVIDUALLY RAISE $1,000 or more will also receive a grand club pin. These incentives will be available at our T-Shirt tent.
INCLEMENT WEATHER:
We walk RAIN or SHINE! Please come prepared for any type of weather – be it rain gear or sunglasses and sunscreen (let's hope for the latter).
THANK YOU TO OUR SPONSOR
S