Walk News and Updates
Sometimes the environment at an Autism Speaks Walk can become overwhelming for people with sensory sensitivities. All of our walks allow access to a quiet space that can be used as a safe outlet if you or your loved one living with autism becomes overwhelmed. We recommend finding the quiet area of your walk when you arrive and share its location with your team for ease of access later on in the day should it be needed.
In-Person or Virtual. Your Choice.
The walk will be in-person and virtual. It's your choice.
The in-person Walk will take place at Oak Point Park on Saturday, October 23, 2021, with registration opening at 8 a.m.
2020 taught us that — near or far — our community is best when we can rally together. Whether you choose in-person or virtual, it's going to be a great day!
In addition to fundraising to support the autism community by furthering the mission of Autism Speaks, you can share your story, connect with others, and earn great prizes. Ready to get started? If you haven't already, register today and stay tuned for more information on how we'll come together this month.
With kindness,
Maria Krystofik
Area Senior Director, Southwest, North Texas & Oklahoma
Fundraising Rewards – Earn fun prizes!
• Any individual participant who raises $150 or more will receive a Walk T-shirt
• Any individual participant who raises $1,000 or more will also receive access to our VIP /Grand Club area on Walk Day but also a Grand Club pin and Tribute Medallion prior to Walk Day.
• Anyone who raise between $250-$10,000 will qualify for these great prizes!
• Any team that raises $2,500 or more by Friday, October 8, 2021 by 4 p.m. Central Time will have access to the Team Village and automatically receive a tent, two chairs and a table on walk day to show off your team spirit and decorate as you wish.
Event Day Program Guide
8:00 a.m. - Registration Opens
9:00 a.m. - Opening Ceremony begin
9:15 a.m. - Walk Starts
11:30 a.m. - Event Concludes
Event Day Parking Map



*Come from Spring Creek Pkwy and Jupiter, turn left at Red Tail Pavillion sign/entrance, drop off by registration tent and follow volunteer's direction to parking lot.


Event Day Route Map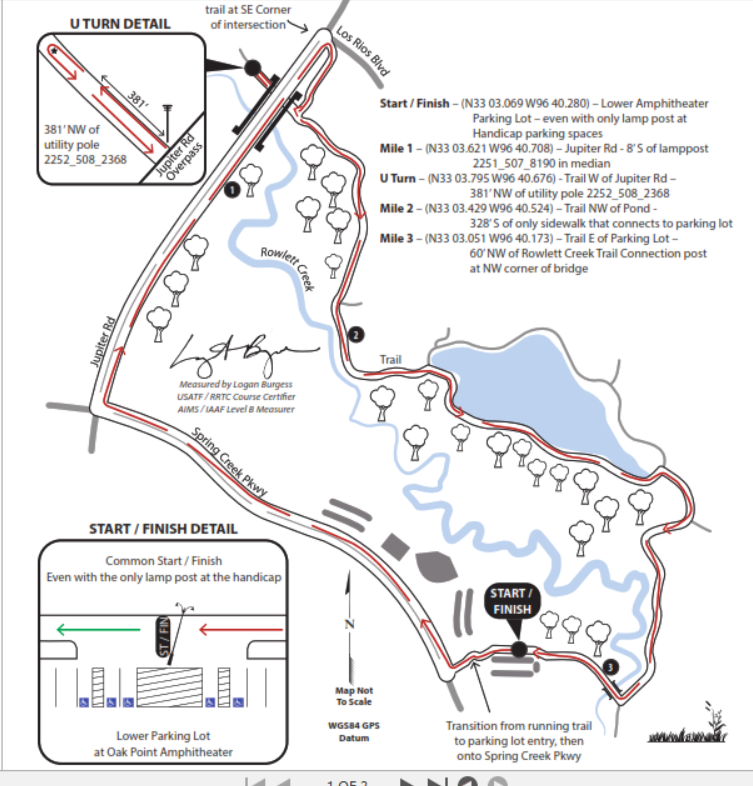 Turning in Donations:
Cash Donations: convert to a money order or check and follow instructions below.
Check Donations:
Deposit using our mobile app and skip the effort of mailing them in! Scan checks directly from your phone and they'll be instantly credited to your fundraising page.
Mail checks to the address below along with a completed contribution tracking form. Mailed donations will be credited to your fundraising page in 2-3 weeks.
Autism Speaks
Dallas Walk
P.O. Box 199
Rocky Hill, NJ 08553-0199
Joining us virtually?
Here's the good news; virtual does not mean apart. We have a fantastic Opening Ceremony planned, including the Mission Moment you love, so we'll be able to celebrate together, apart.
Prepare for Walk Day:
• Create your team t-shirts, customize your banner and tell your team members where you'll be walking
• Print your Autism Speaks "Why I Walk" bibs for your team
Plans for Walk Day Satruday, October 23 at 9:00 A.M.:
• At 9:00 A.M., join us online for the opening ceremony and mission moment. You can view it at act.autismspeaks.org/Dallas
• Autism Speaks staff, some top teams, and sponsors will also post on Facebook throughout the day
• As you head out, play our Virtual Walk Playlist. You might recognize some of the songs that we play at the Walk every year.
• When you finish your miles, visit our Virtual Sponsor Village to learn about local resource providers and other event sponsors.
• Lastly, get social with us! Tag us on Facebook, Instagram, Twitter, or Snapchat using #AutismSpeaksWalk with your location so we can follow along with your journey on Walk day and share highlights on our platforms!