Latest Updates
This year's in-person Walk will take place at the FLA Live Arena (formerly BB&T Center) on Sunday, September 25, with registration opening at 8 a.m. Near or far, our community is at its best when we can really together. We hope you choose to join in person this year — it's going to be a great day!
In addition to fundraising to support the autism community by furthering the mission of Autism Speaks, you can share your story, connect with others and earn great prizes. Ready to get started? Register today!
In kindness,
Carolina Lizarralde
Area Executive Director, Florida
Event day details
Venue address: 1 Panther Parkway, Sunrise, Florida, 33323
Participant Entry: please enter through Gate 1 or 2
Participant Check-in: opens at 8 a.m.
Vendor, Sponsor, and Volunteer Entry: please enter through Gate 1 beginning at 6 a.m.
Safety: Every Autism Speaks event follows an Event Day and Public Gathering Protocol and Safety Checklist. If you're interested in learning more about the safety plan for the Broward Walk, please contact us at Florida@autismspeaks.org.
Please see the Walk Site and Route Map below to familiarize yourself with the location (click on the map to view a larger, downloadable version)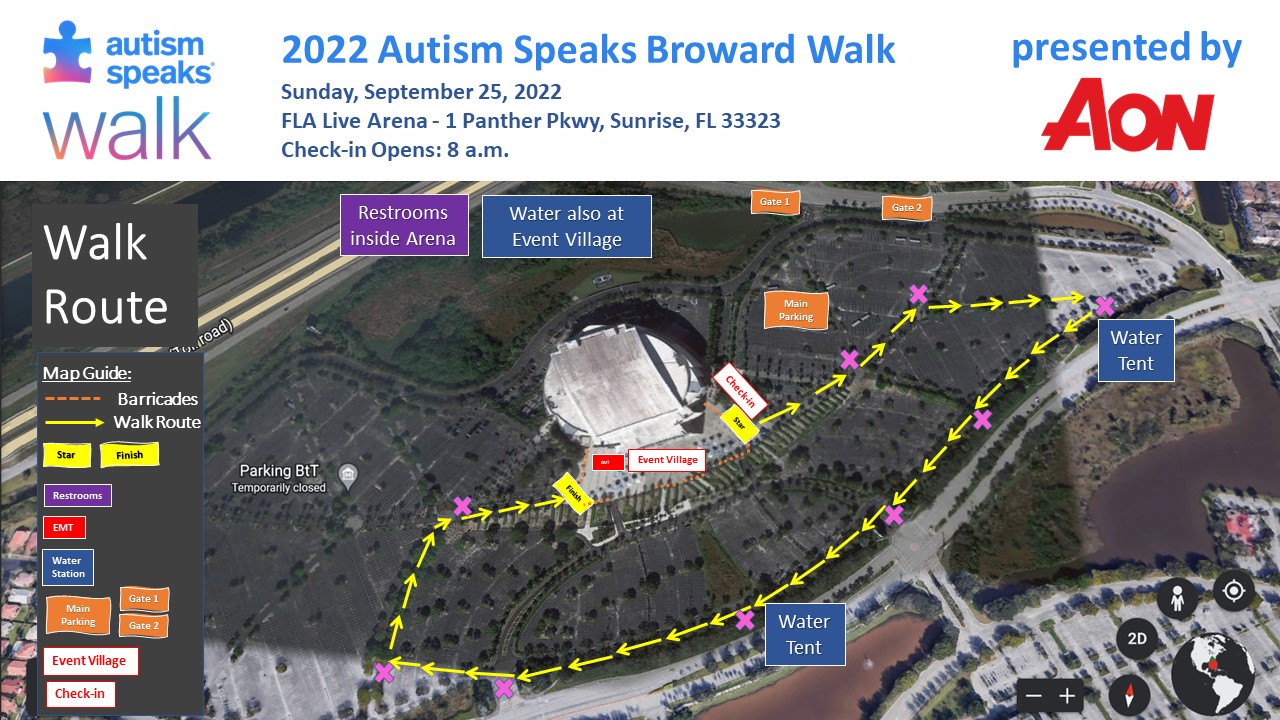 Here's how to get started
If you haven't already, click here to register. Then go to your Fundraising Center where you can:
Customize your personal page with a photo and your reason for fundraising
Set a fundraising goal to help propel our mission forward
Start a Facebook fundraiser (when you do this from your Fundraising Center, all donations will automatically credit your Walk fundraising)
Then, tell your friends and family and start fundraising!
Fundraising incentives - earn fun prizes!
Individual participants who raise $150 or more will receive a commemorative Walk t-shirt
Individual participants who raise $1,000 or more will receive a Grand Club pin
Individual participants can also qualify for these great prizes for reaching fundraising milestones between $250 and $10,000
Teams that raise $3,500 or more by September 16 at 4 p.m. will have access to our Team Village where you'll receive a tent with two chairs and a table where your team can gather and celebrate on Walk day
Turning in donations
Skip the effort of mailing in a check — scan them for deposit directly from your phone using our mobile app. All checks deposited through the mobile app will be instantly credited to your fundraising page. Look for the Autism Speaks Walk app on your mobile device.
If you do need to mail in donations, please mail the checks to the address below along with the contribution tracking form for the donation to be credited to your fundraising for the Broward Walk.
Please convert cash donations to a check or money order and deposit using the mobile app or mail them to:.
Autism Speaks
P.O. Box 199
Rocky Hill, NJ 08553-0199
Mailed donations can take up to 2 to 3 weeks to appear on your fundraising page.
Sponsorship opportunities
Interested in becoming a Broward Walk sponsor? Email Carolina Lizarralde at Florida@AutismSpeaks.org or call 786-725-0548
Fundraising Wall of Fame
Congratulations and THANK YOU to our top fundraisers: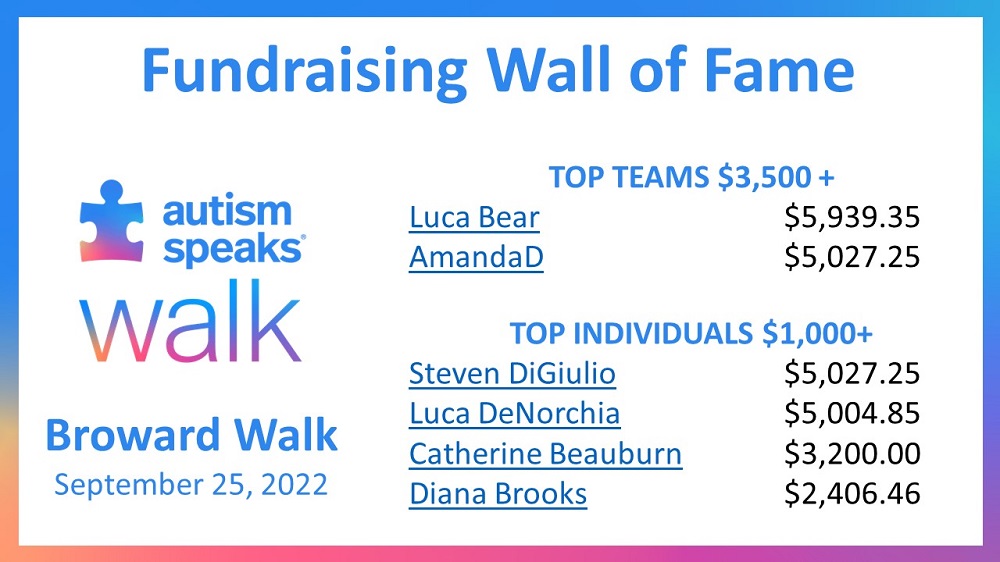 THANK YOU TO OUR SPONSOR
S